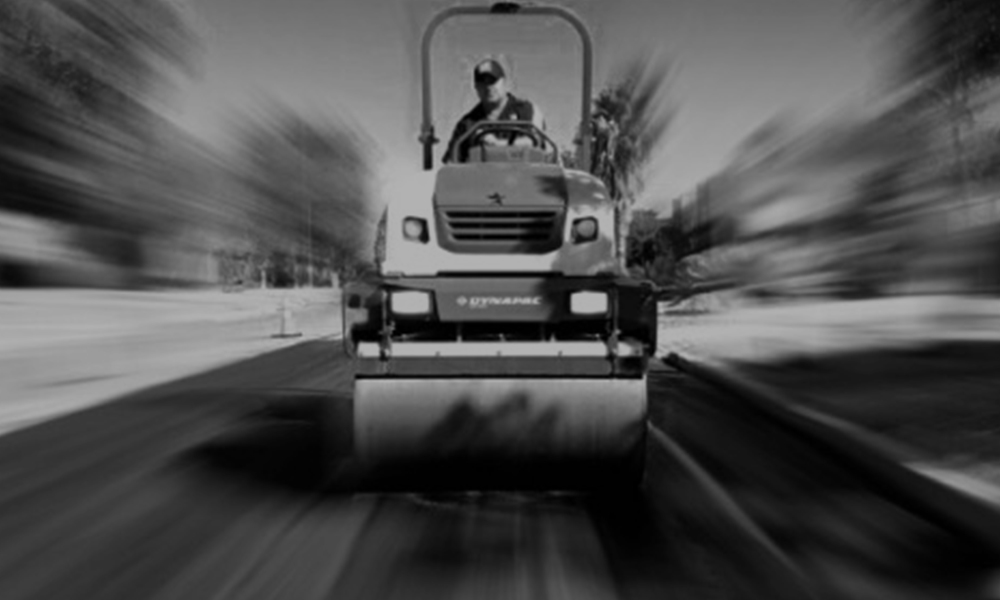 From the planning stages through final completion, we strive towards one very simple goal: to maximize the satisfaction of our customers as we meet their needs. United Asphalt utilizes knowledge, experience and a concentrated approach to personal service to provide quality workmanship on schedule. At United Asphalt, we consistently offer unsurpassed quality, service and support at competitive pricing.
A parking lot is one of the first things noticed by customers, clients, and visitors entering a facility. The color contrast of a newly striped lot is attractive and is a good indication of a well maintained property. A well marked parking lot directs traffic safely and efficiently through the parking lot. United Asphalt can re-stripe your parking lot with the existing layout, stripe from blueprints, or assist new developing new parking lot layouts. We can also provide new stop signs, handicap signs, custom signs upon request and bollards for protection of utilities and doors.
United Asphalt will work with the property owner and city planning commission to develop a parking layout that is safe, maximizes parking stalls and meets ADA requirements.
If you want to really set off your commercial building with powerful branding than look no further. Unite Asphalt, LLC. has been a trusted source for custom striping in San Antonio, TX. From custom colors to intricate designs the most affordable way to brand your walkways and parking lots is with custom striping from united Asphalt, LLC. We have many years of experience in Custom Striping and hire only the most professional workers that are uniformed and pay attention to detail.
Although we offer decorative concrete services to our residential and commercial customers an affordable option can be custom striping in fresh asphalt. Nothing pops off the walkways and streets like fresh paint on fresh black asphalt.
United Asphalt will work with the property owner and city planning commission to develop a parking layout that is safe, maximizes parking stalls and meets ADA requirements.
Sealcoating is a vital element of pavement maintenance. Sealcoat is a coal and tar emulsion that is applied over existing asphalt surfaces to protect the surface from daily destructive forces.
Advantages of Sealcoating
Sealcoating protects against natural elements such as sunlight, snow, ice and salt.
Sealcoating protects from the deteriorating effects of oil, gas and hazardous chemicals
Sealcoating increase water runoff by filling in the asphalt pores and creating a smooth asphalt surface.
Sealcoating allows for easier sweeping, cleaning and maintenance of asphalt.
Sealcoating gives asphalt a new black finish enhancing the look of any property.
Sealcoating will increase the life of existing asphalt and save money by reducing pavement repair costs.
When asphalt has not been properly maintained or has just exceeded its life expectancy the old asphalt may need to be removed and replaced. This process usually involves complete removal of the old asphalt surface. Followed by an inspection of the existing base, additional steps may be needed to prepare the base. Conditions which may not be discovered until the old asphalt is removed are mud, shallow utilities, excessive moisture or an incorrectly installed sub-grade. Our inspection will determine the most effective method to correct these conditions. Once things have been corrected the stone base is installed, graded and compacted. The new asphalt can then be installed and compacted with the correct rollers to finish the process.
Resurfacing & Milling
When asphalt has begun to show signs of surface deterioration and the base is still intact an asphalt overlay is an extremely effective solution. The average thickness of an asphalt overlay is 1.5 inches, but the type of asphalt and customer needs must be evaluated before an overlay can be installed.
Crack filling is one of the best ways to reduce pavement deterioration. Properly filled cracks prevent water from entering the stone base under asphalt. Once this water enters the base it weakens everything and only gets worse when it freezes. As things expand and contract in winter large voids are created and eventually lead to potholes. When cracks are filled correctly they can dramatically extend the life of asphalt. This an inexpensive process that should be considered every fall before winter comes.
Spider Web or Alligator Cracking
Asphalt pavement breaks down overtime and is less able to tolerate stress. This causes tension in the pavement and results in spider web or alligator cracking. This cracking can be caused by structural weakening, aging, and oxidation. It is generally recommended that these excessively cracked areas be removed and replaced rather than filled or sealed.
Repairing asphalt with Kasi infrared equipment will cut labor and material costs in half, and enables road crews to perform ultra-clean patching with no seams left behind for water and ice to get back under the repair. And the repairs can be made year round. Potholes, trench cuts and other asphalt repairs are the bane of public works managers and road crews . . . ubiquitous, time-consuming, expensive to repair, tie up traffic and are hazardous to passenger cars, trucks, cyclists, skaters and pedestrians.
Now a new infrared asphalt repair technology enables city, county and state road crews to save tons of time, material and labor costs in repairing hazardous potholes, alligator cracking, failed utility cuts and other surface defects that plague their asphalt streets and parking lots – year round.
The infrared technique also provides superior repairs to roads, parking lots and driveways at savings of up to two-thirds the cost of conventional methods. As opposed to conventional repair, which requires the removal of old asphalt from a damaged site and its replacement with new asphalt, the new infrared technology expedites repair by heating, fusing, and compacting recycled asphalt, saving equipment, labor, and new material in the process.
The usage of concrete has expanded over the years as businesses and other communities have learned more of its versatile characteristics. Though vital as a foundation material in nearly any style of construction project, it is also useful in landscaping designs.
Concrete Flatwork
Curbing
Colored Concrete
A poorly constructed or mishandled foundation could cost you in the near future. Meet the needs of your property with confidence. For paving, patching, seal coating services and more, rely on United Asphalt to take the weight off your shoulders. We perform superior services for residential and commercial companies across San Antonio, Texas, and the surrounding areas.
A properly built concrete walkway or slab should always have expansion joints to facilitate ground movement and water saturation. A properly constructed concrete slab that has expansion joints will require regular maintenance to ensure durability and longevity of use. United Asphalt not only pours fresh concrete for new builds but also offers maintenance for expansion joints in San Antonio, TX.
Many of our clients are in need of commercial work for their fabricated buildings to waterproof their expansion joints by removing existing caulking and replacing with the latest in caulking technologies.
From crack repair to waterproofing and expansion joint repair call the BBB rated United Asphalt, LLC today!
REQUEST A BID
asphalt san antonio, asphalt san antonio, asphalt san antonio, asphalt san antonio